Business Intelligence Dashboard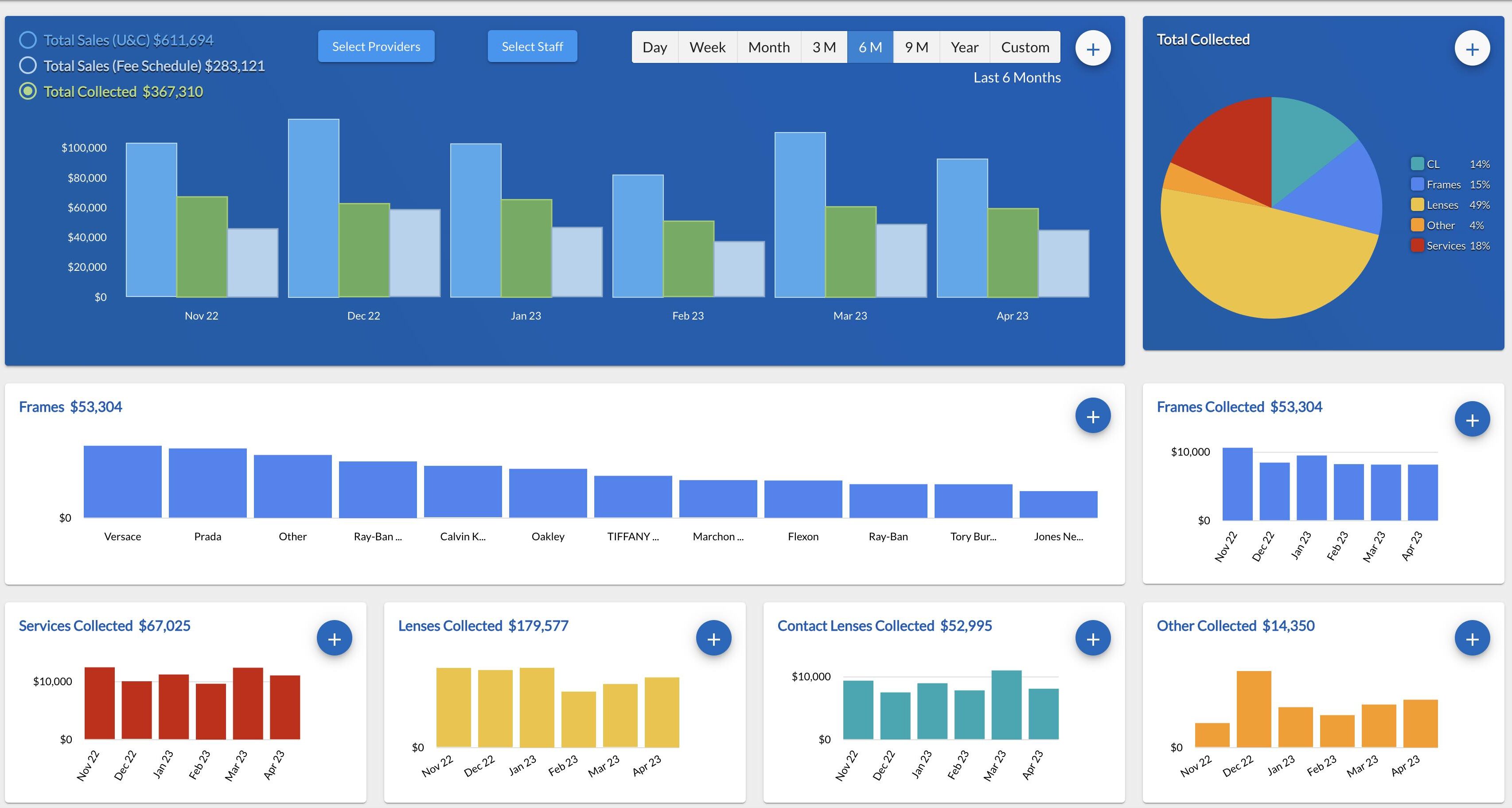 Introduction
As an optometrist or an optometry business manager, you face numerous challenges in running a successful practice. In today's competitive eye care landscape, making informed business decisions is crucial. This is where a Business Intelligence (BI) dashboard can help. By leveraging the power of data analytics and visualization, a BI dashboard empowers you to unlock valuable insights, improve decision-making, increase revenue, and reduce costs. Let's explore how your optometry practice can benefit from this indispensable tool.
Real-time Performance Monitoring
A BI dashboard provides you with real-time visibility into the performance of your optometry practice. You can track key metrics such revenue per visit, and staff productivity at a glance. By identifying trends and patterns, you can make data-driven decisions to improve overall operational efficiency, attract more patients and maximize revenue.
Patient Analysis & Marketing Strategies
A BI dashboard can help you measure the effectiveness of your marketing campaigns and referral programs. Understanding your patients base is essential for targeted marketing efforts and personalized care. This data-driven approach enables you to allocate marketing budgets more efficiently and focus on strategies that yield the highest return on investment.
Inventory Management
Optimizing inventory levels is vital to controlling costs and ensuring efficient operations. A BI dashboard can provide real-time insights into your inventory, enabling you to track the usage and availability of eyewear, contact lenses, and other products. By analyzing historical data, you can accurately forecast demand, avoid stockouts, and reduce wastage. For example, the dashboard might reveal that a particular brand of eyewear consistently sells well, prompting you to negotiate better pricing terms with suppliers or consider expanding the product range.
Financial Performance Analysis
Accurate financial analysis is essential for any successful business. A BI dashboard can provide comprehensive financial insights. You can monitor revenue trends, identify profitable services, and track expenses.
The Consequences of Operating Without a BI Dashboard
Without a BI dashboard, your optometry practice may be operating in the dark, missing out on crucial insights that could transform your business. You may struggle with inefficient resource allocation, ineffective marketing strategies, and missed revenue opportunities. Lacking real-time data and analysis, you risk making decisions based on guesswork, leading to costly mistakes and suboptimal outcomes.
Conclusion
In today's data-driven world, a Business Intelligence dashboard is no longer a luxury but a necessity for optometry business managers. It empowers you with real-time data, actionable insights, and evidence-based decision-making. By leveraging a BI dashboard, you can drive revenue growth, reduce costs, improve operational efficiency, and stay ahead of the competition. Embrace the power of data, and unlock the full potential of your optometry practice with a Business Intelligence dashboard.